L200 Evolution Robot System
The New Evolution L200 Home Robotic Lawn Care Mowing System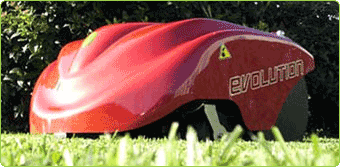 The Evolution L200 Home Robotic Lawn Care Mowing System
Auto Lawn Mow Ireland presents the Evolution L200 lawn care System. As one of the most popular selling systems in the world, The Evolution L200 home robotic lawn care mowing system can handle over one acre of grass! Clean, effective and fully automatic, installed in your home by one of AutolawnMow Irelands technicians means you can sit back and relax while the Evolution L200 lawn mower system does all the work for you. Watch it mow your lawns for you every day! Take a look at the wide range of features and benefits of the L200 Evolution robotic lawn care system. You'll soon learn why this model is the world leader in home robotic lawn mowers care models. The L200 Evolution robotic lawn care system is the perfect robotic system for homes with up to 3 large lawns. Where in the world today could you get your lawns mowed to perfection on a daily basis for just €7, 00 per year?
Click Here for a model comparison of our Robot Lawn Mowers
Fully Autonomous- - The Evolution L200 robot lawn mower departs from it own re charging base station and returns to the recharge base on its own when the battery gets low – Once the robotic lawn care system is installed around your home the system will take care of your lawns throughout the year for you fully automatic. No grass to collect as the robot munches the tiny grass fibres on a daily basis back into your lawn, which acts as natural fertilization giving you the perfect lawn feed all year round.
Environmentally Friendly- With global warming now a major worldwide issue plus traditional lawn mower creating 5% of our national co2 emissions you can have peace of mind with your home robotic lawn care system as there is no emissions for your robotic lawn care system. All Auto Lawn Mow Irelands lawn care systems run on rechargeable Lithium ion batteries; and do not use petrol or burn oil. Mow your lawns with Mother Nature's Seal of Approval!
Lawn Size- The Evolution L200 Automatic lawn care system will handle lawns up to 40,000 sq ft. (over 1 acre) Just imagine your lawns mowed daily and groomed to perfection all year round with an operation cost of just seven euro per year. The robot automatically charges itself when required at the base station which is plugged into the mains. A trickle charge is all that is required to keep the batteries charged on a daily basis. The Evolution L200 Robotic Lawn Care System makes the perfect gardener.
Steep Slopes- Once again, the Evolution L200 auto lawn care system leads the world market, able to handle slopes of up to 27 degree. The robot will drive up slope and hills without losing mowing power.
Smart Spiral- - Detects fast growing and thick grass (such as around obstacles), cutting a tight circular pattern and working its way out to ensure your whole lawn is kept free of grass tuffs resulting in a perfect crew-cut smooth finish to your lawn.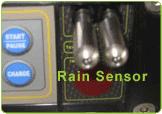 Rain Sensor - The Evolution L200 Automatic robotic lawn care system is specially designed to cope with our rainy weather climate. On the first wet day (or week) this will be a feature you won't want to be without. When it rains and a rain drop hits the rain sensors the robot will stop mowing and return back and park up inside its own re-charging garage. The garage keeps your robot dry while not in use. One of the special features of Auto Lawn Mow Ireland line of robotic lawn care systems is the waterproof garage that is provided with our system. Having your robot tucked away inside its own waterproof garage ensures all the connections etc are kept dry/clean and protected for all kinds of Irish weather.
The Evolution L200 100% Automatic Robotic Lawn Care System
Lithium-Ion Battery - Evolution L200 automatic robotic lawn care system lithium battery lowers the weight and increases performance dramatically.
IMS Motors - These German crafted motors not only give a big boost in auto lawn mower power and performance, they are also whisper quiet at 58 db. All Auto Lawn Mow robot lawn care mowers come with a Full TWO-YEAR WARRANTY.
Four Lawn Zones around your home - The Evolution L200 Automatic robotic lawn care system is specially designed and programmed to handle 4 separate lawn zones around your home on total automation. No other robotic system can perform this task on full automation. Once set up and installed in your home by our professionally trained technician it will mow lawn A, go back to recharge, come back out to work and mow lawn B, go back again and recharge, then when charged mow the lawn C, all without any human intervention. Auto Lawn Mow Ireland range of robotic lawn care systems are the only robotic lawn care systems in the world today with this advanced technology. FULL AUTOMATIC
Anti Theft Alarm - The Evolution L200 automatic robotic lawn care system has two security features. (1) A four-digit password to allow the machine to work. Just like entering a code into your mobile phone to allow it to work. Without the code the Auto Lawn Mow is worthless to anyone. (2) If anyone attempts to lift the auto mower from the lawn the 58db output alarm siren will go off similar to that of a home alarm. Homeowner can just add the Evolution L200 automatic robotic lawn care system to their home insurance should they feel the need to for extra peace of mind just as you would add jewellery etc.
Robot Lawn Mowers Change the Way You Maintain Your Lawn!
Our robot lawn mowers are great for the less mobile. Since the Evolution L200 automatic robotic lawn care system needs no regular maintenance during mowing season, it is great for those who aren't able to get out and take care of the lawn on their own. It's also very nice for people travelling or those who are away for long periods of time. In addition, it's self-programming. This feature alone makes the Evolution L200 automatic robotic lawn care system one of the premiere robot lawn mower systems in the world that are worth there weight in gold! As it mows it determines the resistance of the grass and the size of the lawn to calculate the next time it needs to mow again. Show it off to your friends while using your infrared remote control. This feature will impress the best every time!
Click here to take a look at the demo video of the L200 Lawn Mower below. You'll learn why this lawn equipment is the world leader in robot lawn care mowers.
The Evolution L200 100% Automatic Robotic Lawn Care System

Head Office: